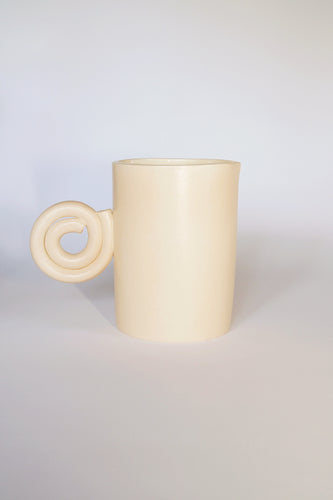 SPIRAL PITCHER
- HAND-BUILT WHITE EARTHENWARE SPIRAL PITCHER

- LIGHTLY AIRBRUSHED WITH A PINK UNDERGLAZE, LINED WITH A CLEAR GLOSSY FOOD-SAFE GLAZE INSIDE AND COATED IN A MATTE CLEAR GLAZE INSIDE AND OUT.

-BASE IS GLAZED STAMPED WITH OUR LOGO AND HAS THREE DOTS FROM BEING FIRED ON STILTS IN THE KILN.

-PERFECT FOR WATER, JUICE, MIXING UP A SMALL BATCH OF COCKTAILS OR TO USE AS A VASE.
-DUE TO HANDMADE NATURE VARIATION IN SHAPE AND SIZE ARE TO BE EXPECTED. EACH PIECE IS ONE OF A KIND.
-HANDWASH, DO NOT SOAK.
MEASURES APPROXIMATELY 4" x 6", HANDLE EXTENDS APPROXIMATELY 3".

---